Pace ADS200 Station with Instant SetBack Stand (120 VAC)
Free Shipping over $100
Excludes all Hazmat products
Fast Shipping with Tracking
Available from account dashboard
Description
PACE's ADS200 is a high power (up to 120 Watts), yet low-cost professional soldering station for serious cell-phone repairers, electronics techs, engineers, DIYers & production solder techs. It features the groundbreaking TD-200 Tip-Heater Cartridge Soldering Iron, with its sleek and ergonomic aluminum handle designed to stay cool and comfortable during continuous production soldering. An Instant Setback (ISB) Tool Stand is included which automatically lowers the temperature when the TD-200 is placed in the stand, greatly increasing tip life as well as saving energy. Blue Series Tip-Heater Cartridges integrate a high accuracy sensor with a robust heater, delivering up to 120 Watts of pure power. *TIPS NOT INCLUDED*
At the heart of the ADS200 lies PACE's new AccuDrive temperature control technology, which delivers unsurpassed thermal performance and highly accurate temperatures, without the need to change tip cartridges or calibrate. Its advanced electronics provide instantaneous load sensing and on-demand power to quickly reflow solder joints at the lowest, safest temperature required, regardless of the mass of the application. Intended for extreme, multi-shift production use, the ADS200 features a rugged, all-metal design, including housing, soldering iron and tool stand. The system is intuitive and easy to operate – just power it on, set the temperature with arrow keys and start soldering. No training required.
Specifications:
| | |
| --- | --- |
| Dimensions | 104mm (4.1″) H x 130mm (5.1″) W x 152mm (6″) D |
| Weight | 2.3kg (5 lbs) |
| RoHS Compliant | Yes |
| Control Technology | AccuDrive™ |
| Tip-to-Ground Resistance | 2 Ohms or less |
| Meets or Exceeds ANSI/J-STD-001 | Yes |
| Tested using ANSI/ESD S13.1-2015 | Yes. Tested up to 50MHz using S13.1-2015 Method. Meets or Exceeds J-STD-001 and ESD S20.20 Requirements |
| Meets or Exceeds ANSI/ESD S20.20 | Yes |
| Temperature Accuracy | Meets or Exceeds ANSI/J-STD-001 Requirements |
| Temperature Range | Temperature Range 193-454°C (380-850°F) |
| Tool Stand | Can hold up to 7 tips, comes standard with sponge, stay moist well and brass wool to clean oxidation from tip |
New High-Powered Soldering Station at a Competitive Price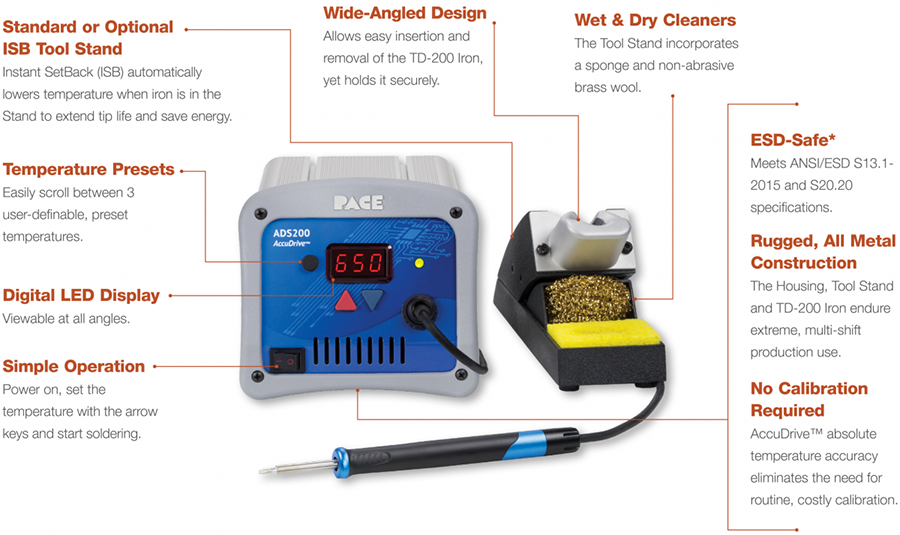 Instant SetBack (ISB) Tool Stand
The Instant SetBack (ISB) Tool Stand automatically lowers the temperature when the TD-200 is placed in the stand. This will greatly increase tip life as well as save energy.
AccuDrive™ Blue Series Tip-Heater Cartridges

Inexpensive Cartridges
Superior Heat Transfer/Delivery
Less than half the price of most cartridge style or curie point tips, delivers lowest cost of ownership.
Allows for safer, lower temperatures, reduces risk of PCB damage and improves tip life.
One Tip Geometry, Any Temperature
Hot-Swappable Quick-Change Tips 
Unlike with curie point tips, select any temperature for a chosen tip cartridge without
having to buy additional ones.
Fast & easy change-out within 2 seconds, without turning the unit off.
Accurate, Honest Temperatures 
Fast Initial Heat-Up 
Consistent, accurate tip temperatures meet or exceed J-STD-001 requirements.
Achieves set temperatures in seconds.
High Capacity Integrated Heater
Wide Variety of Tip Geometries Available 
Delivers up to 120 Watts of pure power
For the most delicate of micro-soldering to challenging, high thermal mass applications